Our second annual Day of Giving will be Tuesday, March 8th. A generous group of donors has challenged us to find 100 individuals to make a gift. When we are successful, this group will give an additional $30,000 to support Jackson Christian School. Here's how you can help:

1. Make a gift to one or more projects
2. Spread the news about this opportunity with family and friends
3. Share why you love being part of the Jackson Christian Family
Please contact Blake Beckham at blake.beckham@jcseagles.org with any questions.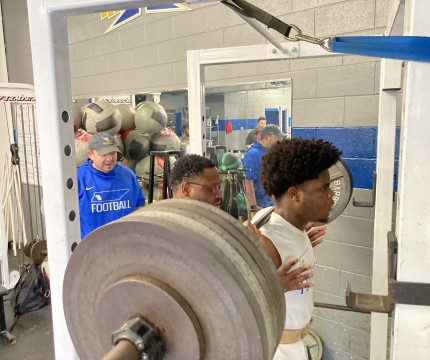 In today's competitive sporting environment, we are always looking for ways to provide our student-athletes with multiple competitive advantages. These advantages are what allow our student-athletes to compete safely and at a high level. With the addition of new equipment, we can continue to make sure that we are developing a strength program that can consistently address the demands of each sport. Thank you all for your support and for making sure our student-athletes have the tools available to help keep them injury-free, in shape, and performing at their best!
Allen Ervin, Head Strength Coach

Last updated: 3/10 9:00 AM
Give Now to Support Weight Room Upgrades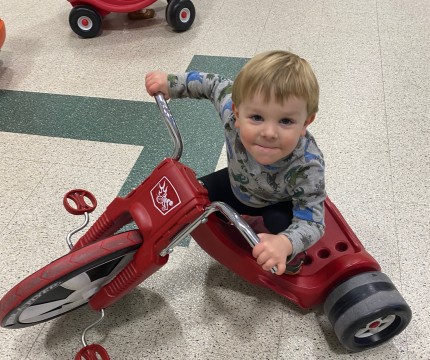 The benefits of play are numerous, such as building fine and gross motor skills, promoting problem-solving, nurturing creativity, and encouraging independence. Therefore, play is an important part of learning in the Early Learning Village! The indoor (and outdoor) play equipment is used many times throughout each school day and also in our After School Care program. Because of the high-use frequency, several of our ride-on toys and other equipment needs replacing. Please consider helping our youngest Eagles as they play and learn together!
Jeanna Rice, Director of Early Learning Village

Last updated: 3/10 9:00 AM
Give Now to Support the Early Learning Village
Baseball/Softball Field Improvements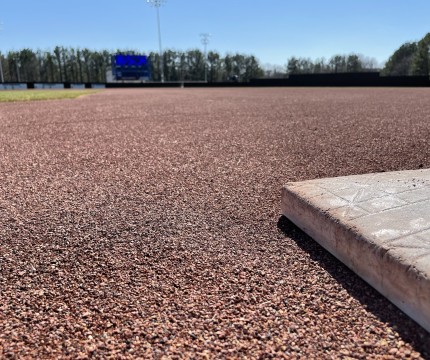 We are constantly evaluating the facilities of our programs and have a goal of creating an environment that speaks of excellence and is safe for our student-athletes to show their God-given talents. Years of use, weather, and time created the need for our fields to be laser graded and new dirt used on our infields both for safety and consistency of play. As we continue to upgrade our facilities, we thank you for your support and for helping us take another step toward where we want to be as an athletic program. Go Eagles!
Jason Shelton, Athletic Director

Last updated: 3/10 9:00 AM
Give Now to Support Baseball/Softball Field Improvements
Secondary Classroom Upgrades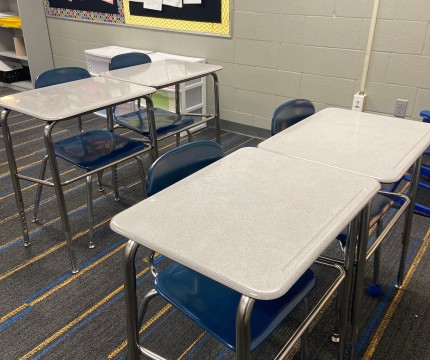 In 2016, Jackson Christian completed the new addition to the secondary building. With this addition, we acquired new classrooms, office space, a chorus room, a robotics room, and a beautiful lobby. This expansion has greatly improved the aesthetics of our middle and high school buildings. Since 2016, very few improvements/additions have been made to our facility. Presently, we are in great need of new classroom desks and chairs. I am unsure when our current student desks were purchased, but I am certain that most of them have been on this campus for decades.
It is our desire for all of the facilities on the Jackson Christian campus to speak of excellence. New classroom furniture for selected rooms on the secondary campus would greatly improve the physical appearance "up the hill."
Lisa Hickerson, Director of Academics

Last updated: 3/10 9:00 AM
Give Now for Secondary Classroom Upgrades
Elementary Playground Expansion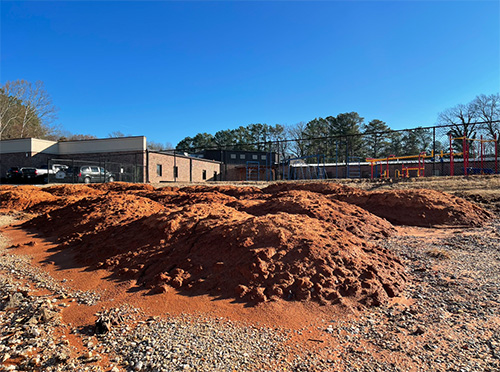 Recess is necessary for the health and development of children. It offers children the opportunity to be physically active, which is beneficial for their physical health and mental health. At Jackson Christian, we have two recesses a day. Two years ago we expanded the elementary playground to create additional green space to increase the play area. We are excited to be expanding our footprint again. This will serve as an area for soccer, football, and room to run and play. Thank you to the family fund for making it possible for us to serve our children in this way.
Linda Bradford, Director of Elementary

Last updated: 3/10 9:00 AM
Give Now to support the Elementary Playground Expansion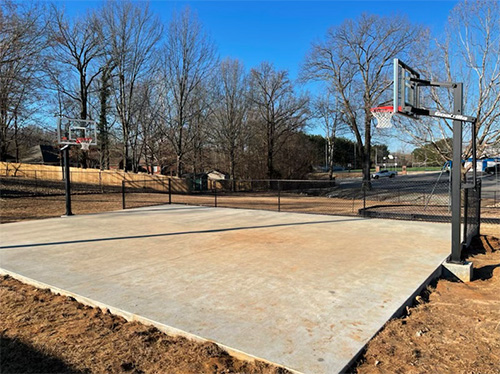 Thank you is never enough to express our gratitude for all you do for our school, and most importantly our students. What started as a conversation between Mrs. Bradford and myself about putting portable basketball goals on our playground quickly turned into the installation of a concrete basketball court with two of the best basketball goals made. Our kids have watched the construction on the concrete pad being staked out, leveled, and concrete poured. They have been talking about this court for weeks. After the basketball goals took a detour for a few days, they were FINALLY delivered to the school. When we told the kids the goals were going up, they erupted in cheers and hi-fives! They were so excited to have this incredible court. Projects like this can't happen without selfless, giving, and caring people like you. THANK YOU!
Coach Brower, Elementary PE

Last updated: 3/10 9:00 AM
Give Now for Our Outdoor Basketball Court