The annual Tournament 21 has turned a tragedy into triumph by bringing together families to honor beloved Jackson Christian student Ryder Lewis, who passed away in June 2018. The third annual event will be held at Jackson Christian in January 2021. Tournament 21 combines many of the things Ryder loved including playing basketball, his jersey number "21" and making friends with other kids. Ryder was a player on the Jackson Magic, a travel basketball team.
The inaugural Tournament 21 was held in January 2019 and was such a success that several individuals decided to set up the Ryder Lewis Memorial Fund through the West Tennessee Healthcare Foundation. The five members on the board are Bob Seals, Brian and Kristi Riddle, and Ryder's parents Chris Lewis and Tracey Lewis.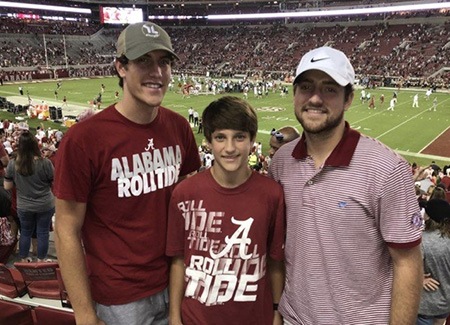 "It started out as a fund-raiser so we could use funds to help others in a way that would honor Ryder," Tracey said. "We had a goal of $150,000 and God showed out because that's exactly how much was raised!"
The foundation's goal is to give away $21,000 a year to worthy causes such as donating fuel cards for parents taking their kids to LeBonheur Children's Hospital in Memphis and a free football camp for local elementary kids. This year the foundation helped a single mom with six children purchase school clothes and supplies for the current school year. "We raise money every year in his honor, and we use the money to help kids in need. We have provided Christmas gifts for children, scholarships for students with financial need, and found many other ways to help kids each year," Chris said.
The tournament generates support from the Jackson Christian community and beyond. "Every January I am blown away by the generosity and commitment to excellence as we host the tournament," Chris said. "We have teams on a waiting list to get into the tournament in our region and we have teams on a waiting list to get in every year, which happens because of a great community. We couldn't do it without Jackson Christian hosting, and we are extremely thankful for every sponsor and volunteer."
Ryder passed away from injuries from a boating accident in June 2018. He was 13 at the time of his death and was heading to the eighth grade. A Jackson Christian student since junior kindergarten, Ryder was a student athlete and is remembered fondly by his brothers, classmates and his parents.
"Ryder was full of joy, happiness, and love! He was kind, compassionate, and a friend to all that knew him. I am truly blessed that God chose me to be his mom," Tracey said. "I'm grateful to Jackson Christian for helping to mold Ryder into who he was meant to be, to the coaches and teachers that loved on him and loved him as their own and to the school for helping us keep Ryder's memory alive by graciously hosting this tournament every year."
In the interest of promoting public health and safety due to the Covid-19 pandemic, the Ryder Lewis Tournament has been postponed for January 2021.
Jackson Christian is proud to host Tournament 21 and prays for the continued success of the event and the work of Ryder Lewis Memorial Fund.