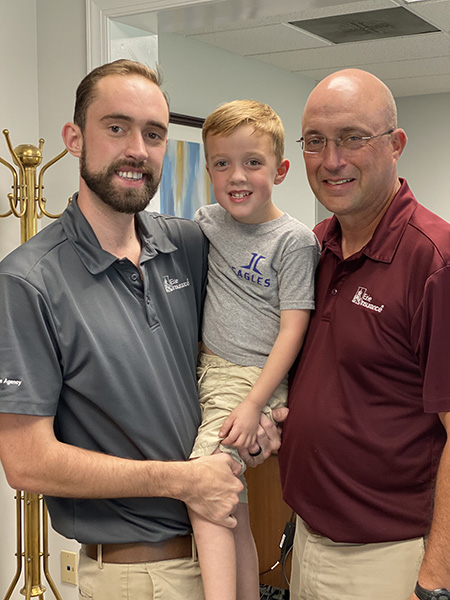 Jackson Christian School began in 1976. Since that time several children of former students have also attended Jackson Christian. Earlier this year we reached a significant milestone. We welcomed Graham and Griffin Ellis to our campus. They are the third generation of the Ellis family to attend Jackson Christian. That's right--the parent, his child, and now his grandchildren!
Alan Ellis was one of the first students and was a part of the class of 1982, the second graduating class. Alan started Jackson Christian in 1976 as a 7th grader. At that time Jackson Christian was a K-8 school. He was in a class of eight young men. They began with girls, but he acknowledges that they aggravated the young ladies so badly they left. Because of the small class, Alan received a scholarship to Freed-Hardeman University for being in the top ten of his graduating class. Again, it was a class of eight.
Alan fondly remembers playing basketball at Jackson Christian. Since we were a very small school and he was the tallest person (6'1") in 7th or 8th grade, the coach looked at Alan and said, "You're our center." Alan admits that he couldn't walk and chew gum at the same time. By the time Alan was a senior, he was the sixth man, coming in as a guard. A couple of the guys in his class had growth spurts, and they became the center/post starters. Alan says that he never grew another inch.
The team never won a game in 7th or 8th grade. When they started playing high school basketball, they were mainly a freshman team playing against good senior teams. They lost their first game by over 100 points. Their opponent's center was 6'6" and had long arms. When he held the ball above his head, Alan admits he couldn't jump high enough to reach the ball. Jackson Christian had the longest losing streak in the state of Tennessee before Alan's senior season. The team finally won two or three games their senior year.
Hayden Ellis, Alan's son, started Jackson Christian in kindergarten and was in the graduating class of 2011. His fondest memories are of being in plays under the direction of Dr. Jenna Britt and Mrs. Peggy Weaver. He admires the work they have done to create an incredible drama department. Hayden says these two taught him incredible life lessons, but they also made sure that he knew to always focus on God.
Hayden says it was always pretty neat knowing that his dad was part of the second graduating class of Jackson Christian. At least once a week, someone would point to Alan's picture in the high school hallway and comment to Hayden about how much hair Alan had in high school. Another favorite memory for Hayden was having chapel in Coffman Gym.
Hayden goes on to say that the Christ-centered education he received at Jackson Christian was incredible. The quality of the education he received put him ahead of his peers in college. Hayden graduated with 15 hours of college credit and was also in the top 10 of his class of 72 students.
Hayden loved his experience at Jackson Christian, and he is excited that his sons will have the same opportunities. He knows that their school friends, the quality education, and the Christian values taught and shown by the faculty and families make it worth the financial sacrifice.
We are honored to welcome Griffin (class of 35) and Graham (class of 34) to Jackson Christian. Graham already loves the fact that Mrs. Pam Holmes has been the librarian for all three generations.
We look forward to Graham (class of 2034) being our first third-generation graduate.