As Jackson Christian's head strength and conditioning coach, Allen Ervin's dedication to students and anyone he trains is evident by how early he begins his day — 4:30 a.m.
"My goal is to share my experience and knowledge with the students I train, so they understand how they can relate their training to their sport," said Ervin, who is a former running back with the NFL and CFL. "I'm constantly trying to reach them and show them that I genuinely care."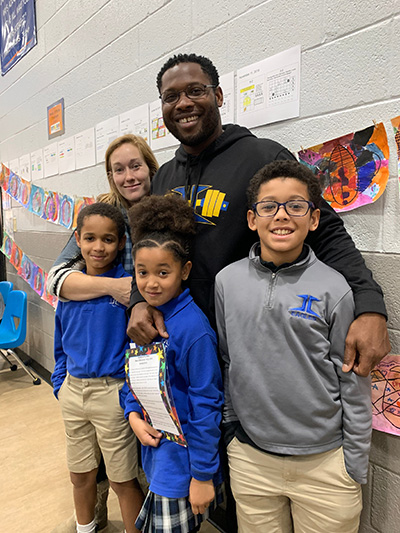 Ervin is in his ninth year at Jackson Christian and considers it a blessing that the school is a place where his wife also works as an assistant teacher in the 3-year-old classroom and his three children are students.
"Being in this environment makes you feel loved and a part of something bigger than yourself," Ervin said. "It's comforting to have a relationship with Jesus in the place where you work. You know you're not alone because coaches and teams pray together and have built a community."
When he's not training, Ervin is also in the community volunteering. "I love serving others and being out in the community lets people know you're just not out for yourself."
He enjoys challenging people to push themselves mentally and physically. When someone reaches a goal or makes improvements, one of his greatest joys is sharing in their accomplishments.
Jackson Christian students Kameron Boyd and William "Tacker" Nash said training with Allen has helped them reach their goals. "Running track, that's in my blood," said Boyd, a sophomore. "I came in as a freshman and I was small and couldn't play football." With hard work and training, Boyd gained 10 pounds of muscle and earned a spot on the school's football team as a running back and cornerback. "Coach Erv wants us to do our best and give 100 percent. It may not be fun, but in the long run it's fun making your opponents look funny." Nash, a middle linebacker on the school's football team, has been able to improve his speed and grow leaner through healthy eating and training. "I feel like because he trains us well, I'm able to really see myself playing college football."
Ervin has worked with members of the school's marching band to teach them about healthier lifestyle choices that not only improve their ability to carry instruments for long periods of time, but can also be lasting habits they continue in their adult life.
One band member, Ervin says, did not have any weight training experience before he started the class.
"By the end of the semester, he realized how much stronger he had become and what he could do," he said. "He went from deadlifting 95 pounds to deadlifting 235 pounds. One day he told me, 'Man, I feel strong.' Not only was he able to accomplish his goal to become stronger, he felt more confident and supported."
Jackson Christian Softball Coach Jennifer Wheeler said Ervin's work with her team has helped them stay strong.
"It's nice to have their training and conditioning taken care of, so that I can focus on spending time with them practicing for games," said Wheeler. She played collegiate softball and has spent seven seasons coaching at Jackson Christian. During softball season, her team plays four to six games a week.
"I've noticed how hard they are able to pop the ball off the bat and how much energy they still have left after a game. I know that the combination of practice and training has laid the foundation," Wheeler said.
With the team's season underway, Wheeler says the 11 players on the team are some of the most athletic students she has coached. "They're utility players, and they get along well," she said. "They're not only athletes but they've also learned about fitness and how to stay healthy, so they feel well and have fewer health conditions."
The team's goal is to make it the state tournament.
"Having Allen and the program here is so important, so all our athletes stay strong in and outside of their seasons," Wheeler said.
Jackson Christian Head Football Coach Darby Palmer refers to Ervin as his "right hand man." "I bounce a lot of ideas off of him," said Palmer, who is in his seventh year as coach. "Our players have experienced a lot of growth from strength and conditioning to become bigger, faster and stronger."
The team's 8-to-4 season last fall was one of the best seasons the school has seen in 12 years.
"Coach Erv always goes above and beyond with our athletes including the nutritional guides he customizes for players to give them a step-by-step guide on how to lose, gain and maintain weight. He gives them all of the information they need to set them up for success," said Palmer, who played football in college and coached in Alabama before he began at Jackson Christian. "He's worked with the players on hip mobility, ACL and MCL stabilization, which has resulted in fewer player injuries since he has been here. He gets them ready for whatever field of play."