Jackson, Tennessee — (April 27, 2021)
Several Jackson Christian students are 2021 VEX IQ Robotics TN State Teamwork Champions following a challenging day of 232 qualifying matches and judges interviews during a competition held Saturday, April 17, 2021, in Brentwood, Tennessee.
Jackson Christian students competed amongst 35 teams from across Tennessee. Two elementary and one middle school team from Jackson Christian won three bids to compete in the 2021 VEX IQ Virtual World Championship in May. The winning teams include middle schoolers Mickey Davis, Andrew Martin, Dalton Carter and Raleigh Cox, who are all returning State Teamwork Champions for the second year in a row, and elementary students Jaden Hughes, Bennett Bratcher, Matt Blankenship and Ian White. Additional team members are Brennan Willoughby, Tucker Robertson and Mitch Forbes.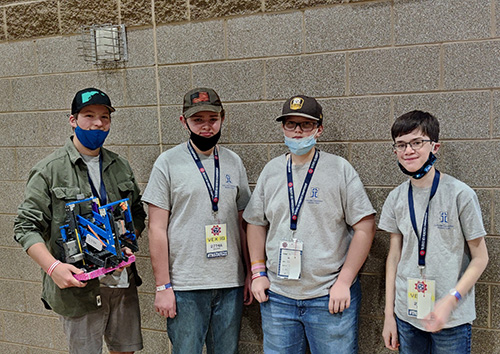 Returning state champs, Martin, Carter, Cox and Davis are ready to compete this year at the world championship after last year's competition was canceled due to the Covid-19 pandemic. "I'm so happy we made it to the world championship again this year. I was so disappointed last year when it was canceled and we couldn't go," Cox said.
Jackson Christian President Mark Benton commended the students' commitment and tenacity to return to the competition in light of last year's cancelation.
"We share in our students' excitement as they prepare for the world championship," Benton said. "We are so proud of their hard work, and we know they will represent the values and mission of Jackson Christian as they prepare to present all they've learned about teamwork, research and development on an international stage."
Team members logged hundreds of hours designing, building and refining their robots, the team's winning robot is aptly named "Conquest."
To qualify for the state championship this year, teams competed in virtual and in-person events held from October to March.
"It was awesome to win state again. We put in so much hard work and dedication this year," Davis said.
Jackson Christian's teams were recognized for the excellent quality, design and durability of their robots. The competition challenges teams during a one-minute match to drive their robots to score points on the playing field. Students also have one-minute matches for their robot to autonomously score points without a driver. Robot inspections, student evaluations as well as inspection of individual driving and programming skills are also commonplace at the state level competition. Teams must also provide judges with background about their design and building process.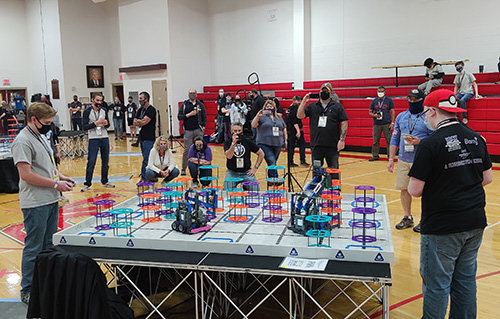 Jackson Christian Robotics Team coaches are Molly Plyler, Megan Hyde and Jacob Carbonell. "When we started this program, we knew students were interested in competing, and we've been impressed by their strong work ethic, problem-solving skills and how strongly they support one another," Plyler said.
The school's team is in its second year and continues to attract students. "I've always enjoyed tinkering and building things. This is a cool experience because I get to do that with my friends while using more advanced stuff," Martin said.
"I really like robotics because it gives you the opportunity to learn more about computers," Carter added.
Held virtually for the first time in its history, The 2021 VEX IQ Virtual World Championship will begin May 17 and conclude May 29. The Northrop Grumman Foundation sponsors the event.