For many years Jackson Christian third graders watched their plants and vegetables grow in traditional raised garden beds, but this school year students are thinking outside of the box with four new Aeroponic gardens.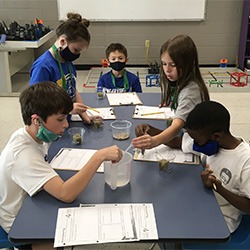 Aeroponics is the process of growing plants in an air or mist environment rather than soil. Aeroponic systems use water, a soilless growing medium, and liquid nutrients to efficiently and quickly grow produce. The system uses coconut husks for the soilless growing medium, which does not attract insects like traditional soil.
Jackson Christian began offering the study of Aeroponics at the beginning of the 2020-21 academic year with three Aeroponic gardens assigned to third graders and their teachers. A fourth garden is maintained by fifth graders who are studying plant adaptations.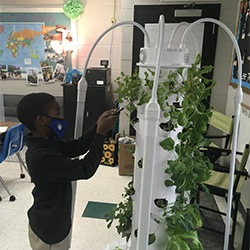 The Aeroponics Tower Garden offers students the opportunity to enhance the school's STREAM focus. STREAM is an acronym for science, technology, religion, engineering, arts and mathematics. Students involved the Aeroponics garden range in age from eight to 12 years old.
"Every third grader has planted a seed in the Rockwool, which provides the plant's roots with oxygen, moisture and everything it needs to grow," Blair Beckham, Jackson Christian third grade teacher, said. "The system holds 20 pods and we've grown 10 or more varieties of green vegetables."
Lettuce is typically ready to harvest in a two-week period. To celebrate the first harvest at the beginning of the school year, students and teachers hosted a salad party. "We bought salad dressings and our cafeteria washed and chopped what we harvested," Beckham said. "Even students who didn't like salad were trying it because they watched everything grow from a seed."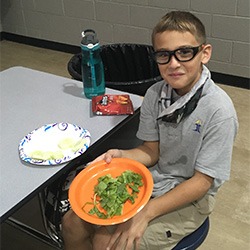 Subsequent harvests yielded more vegetables for students to sample and for teachers to send some home with students.
"Everything is 100% organically grown — from basil, arugula, kale, cherry tomatoes, bell peppers, squash and peas," Megan Hyde, Jackson Christian's elementary STREAM director, said. "It's so good to bring life into the classroom and watch something growing – it's been a welcomed change."
The plan for the aeroponic garden program this year is to continue to allow students to grow and harvest new produce throughout the year. In the coming years, Jackson Christian leaders are hoping to expand the gardening program to include a greenhouse and hydroponic gardening for fifth graders.