As the grandson of one of Jackson Christian's founding families, Mark Coffman remembers the school's humble beginnings as a sixth grader sitting in the upstairs Bible study classrooms of Central church of Christ.
"It was 1976, and I was 11 years old at the time," Coffman said. "My high school graduating class in 1983 had 20 students and was the school's largest graduating class for a few years after that."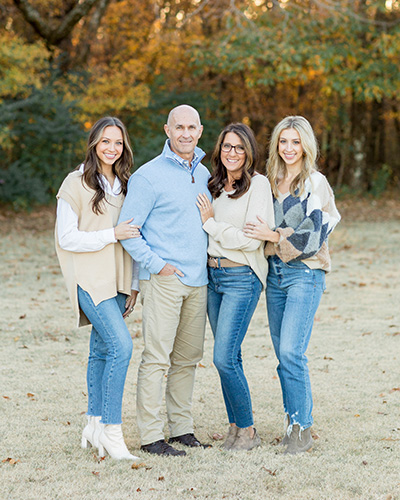 When Mark and his wife, Donna, became the parents of two daughters, Madalyn and Nora, they knew they wanted them to be the next generation of Coffmans to attend Jackson Christian.
"We wanted them in a school where the values and beliefs that are near and dear to us would be reinforced daily," Donna said. "With Bible class and chapel, we knew they were being taught by instructors who not only believed the same as we do, but who also took a real interest in the kids. They had a close bond with the instructors, and that was rewarding for us."
During their years at the school, one of many impactful experiences for the Coffman girls was the junior class trip to Washington, D.C.
"That is the ultimate school field trip," Mark said. "Their teacher, Fran Baker, is a good example of a teacher who is teaching what she loves. It comes through, and the kids see that. They experience our country's history, and they return with a deep appreciation for how blessed we are to live in this country. It was an impactful trip for me, as well."
The Coffmans say their daughters are examples of success that reflects Jackson Christian's track record of academic rigor for students.
"Jackson Christian prepares students for the next step in life, whether it's workforce or college," Donna said. "The school is very strong in academics."
Following her 2015 graduation, Madalyn attended Mississippi State University, where she earned a bachelor's in marketing, and she is currently earning a master's degree. Nora, who graduated in 2018, is studying nursing at Arkansas State University.
Even with their daughters as alumnae, the Coffmans maintain a close relationship with Jackson Christian. Donna teaches at the elementary level, and Mark serves as a member of the board of trustees.
Mark walks today's campus in amazement and remembers its humble beginnings — from 56 students in 1976 to more than 800 students in 2021 and from just a few classrooms to a sprawling 41.3-acre campus.
"It means a lot to look back on where the school started, where it is now and where it is headed in the future," Mark said. "It's rewarding to be a part of something that I witnessed starting from ground zero. It is truly nice to walk around the campus and take everything in."
As Jackson Christian continues to grow, Mark said the board and school administrators are committed to finding ways to expand academic offerings, as well as improve the physical campus.
"We take pride in our extracurricular activities and academics," he said. "We're always working to find ways to enhance students' educational experiences. Jackson Christian has flourished, prospered and been very blessed."